(BALTIMORE – March 28, 2013) – Black Founders, a San Francisco-based organization focused on increasing black tech entrepreneurship, is hosting a student hackathon on April 5th & 6th at Morgan State University. The hackathon gives college students interested in a technology, engineering, and design the opportunity to test their skills during a hands-on weekend focused on education, networking and team building.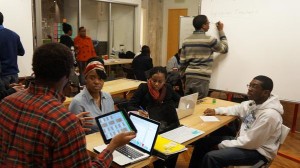 College students will spend the weekend working toward building a web or mobile app. Students will form teams where they will brainstorm, design,build and launch, with prizes awarded to the best projects at the end of the weekend.
Students will also have the opportunity to network with tech startups and learn about startup culture and employment opportunities at each company. The 2-day hackathon will start with a presentation from a tech industry professional followed by brainstorming, team selection, coding and work sessions. The hackathon closes on Saturday with team presentations and the selection of winners.
Black Founders has hosted hackathons at Howard University and in Atlanta, GA and sees hackathons as a way to get black students more engaged in technology and startups. The Morgan State hackathon is co-hosted by DiversiTech, an organization dedicated to diversity in technology, and Given.to, a Baltimore-based startup founded by three Morgan State University alumni. Sponsors include LCG Technologies, 1sqbox, AOL, and Software Theoretic.
The hackathon is free and students may register here: http://morganhackathon.eventbrite.com
Follow this event on Twitter with the hashtag #HBCUHacks.
About Black Founders
The Black Founders mission is to increase the number of successful black entrepreneurs in technology.The goal of our organization is to create an ecosystem that stimulates entrepreneurship and fosters economic growth in the community.The founding team of Black Founders is made up of four entrepreneurial friends who met in San Francisco and wanted to create an organization that would empower entrepreneurs and provide founders with access to advice, mentorship, and funding. The vision for Black Founders is to develop programs that equip entrepreneurs, inspire innovation, and allow entrepreneurs to share resources and knowledge.
Source: Black Founders Encourages HBCU Students to Code with a Hackathon at Morgan State University