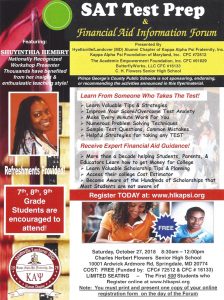 The Academic Empowerment Foundation, Inc. (AEF) (CFC 91829) and The Kappa Alpha Psi Foundation, Inc. of Maryland (CFC 72512) and Butterflyworks LLC (CFC 16133) will present a FREE SAT Workshop and a FREE Financial Aid Information Forum for Parents/Guardians on Saturday, October 27, 2018 from 8:30 am to 12:00 pm for all area students in grades 7-12.
These FREE workshops and Forums will be held at Charles Herbert Flowers Senior High School, 10001 Ardwick Ardmore Dr, Springdale, MD 20774.
Seating is limited to the first 500 students who register online at www.hlkapsi.org.
You must print and present one copy of your online registration form on the day of the Forum